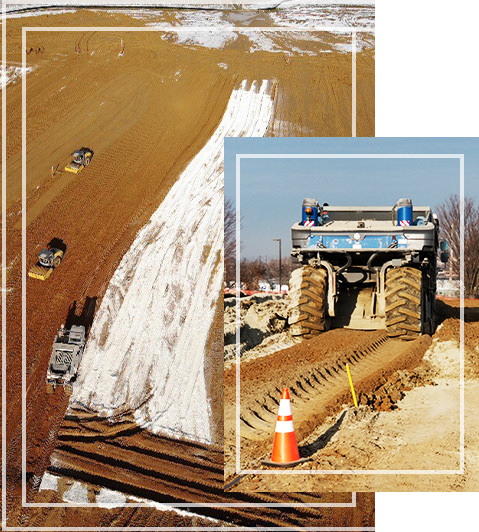 7 principles of professionalism drive this predictable success:
Carefully selected, trained and dedicated team members
A family-oriented environment
An intense focus on job safety culture
Innovative work systems
Maintaining open lines of communication with clients and team members
Flexibility with individual client needs
And being conscientious about each client's timelines and financial margins.
Our passion is performance-based through scientific testing, strategic planning, job safety, and flexible allocation of manpower and over 100 pieces of well-maintained equipment to keep your project goals on track. Plus, as the nation's premier bulk purchaser of site materials, we pass the savings on to you. This quality control has made EJ Breneman a leader in soil stabilization and full-depth reclamation.
OUR HISTORY
Download Company Brochure
VIEW OUR PROJECTS
OUR Core Values
Our core values have shaped our corporate culture since the very beginning
01
We constantly strive to maintain the utmost safety at every job. Nothing is as important to us as our "Safety 24/7" attitude. We train each of our team members in safety guidelines and techniques, and we expect everyone to stop unsafe processes when they see them.
02
We are passionate about choosing the right people for every job. As such, we carefully vet each team member and ensure they are fully trained, thoroughly prepared, and entirely dedicated to serving you before we send them out into the field.
03
We want all our team members, no matter the position, to be 100% informed and on the same page at all times, and we employ the same amount of communication with our clients. Nothing is more important to us than knowing that everyone involved in a project has the same vision in mind-- your vision.
04
Nothing is as important to us as our customers. We strive to ensure your comfort at every job by maintaining a family-friendly atmosphere where you can be at ease.
05
Innovation excites us, and we use it in every practice we employ to benefit you in the long term. We excel at both simple and complex assignments, and we strive to deliver products that go above and beyond your expectations.
06
As a principle, we have dedicated ourselves to being completely flexible with all our clients' needs. No matter how long or arduous it is, if there is something you don't like about the way we are working on your project, we change it.
07
We make decisions to serve you. Because of this, we work to ensure that your budget and timeline are at the forefront of our priorities. This principle earned us our spot as an industry leader of top-notch soil stabilization and full-depth reclamation services, and we can't wait to show it to you first-hand.
Seven Principles of E.J. Breneman
SINCE 2017 – EJB HAS SERVED