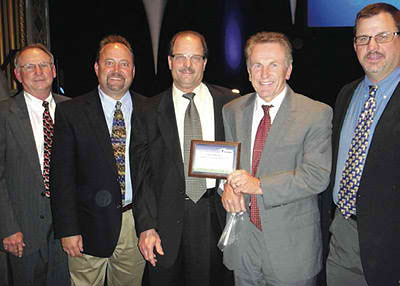 E.J. Breneman L.P. and the Greater Reading Top Businesses
The Greater Reading Chamber of Commerce and Industry is comprised of roughly 1,600 businesses and industry from Berks County and its surrounding areas. The Chamber and its members represent around 90,000 people. The aim of this organization is to assist businesses in nurturing economic growth in the Greater Reading region. The Chamber works closely with our legislative representatives to focus on the needs of this area and interests of the community.
The Vision of the Chamber is: To be the business voice of Greater Reading.
The Mission of the Chamber is: To be Greater Reading's leading resource and advocate for business.
E.J. Breneman, L.P. has been a member of the Chamber for 54 years. We participate in many of their functions. We network with other members of the Chamber, meet new people in industry and make alliances that last for years. There are opportunities to meet with your local Congressional Representatives. The Chamber connects businesses to resources, provides marketing and networking opportunities, and training to develop the skills of our local workforce. Some of the more important Chamber functions are:
Partners with all other economic development organizations in creating an environment for growth
Enables all businesses to take deliberate and decided action on issues affecting their welfare
Helps small businesses thrive and entrepreneurs strive
Prepares tomorrow's workforce with our involvement in education partnership
Operates as a model business and pursues best practices
Maintains a five-star rating as one of the best chambers in Pennsylvania
Reflects our multicultural community at large
As we all know, the past two years have been an extremely difficult time for the United States economy. The unemployment level has reached a high of 9.2 percent, costs of all kinds have risen dramatically and competition from China and India has been hard on our manufacturing industry. Our National Debt is at an all time high. The Chamber recognizes all of these issues both within the United States and on a more local scale.
Every year for the past six years the Chamber has recognized some of its members for achievements in business and has ranked these companies numerically from one to fifty. The ranking is tabulated by the Greater Reading Chamber of Commerce & Industry with assistance from KPMG, a well known accounting firm.
Good News:

This year's Top 50 firms, both large and small, across a broad range of industries, have been able not only to sustain themselves and weather the economical turbulence, but they have been able to grow and create jobs for the local economy. E.J. Breneman, L.P. was one of that Top 50; in fact we came in the Top 10. At No. 7, E.J. Breneman, L.P. improved on last year's No. 19 ranked position. Each and every one of our employees has helped make E.J. Breneman, L.P. what it is today.
The Marcellus Shale industry has helped us as a company both with added revenue and with the ability to hire more field labor and clerical staff. We have even opened up a new (although small) office, in Wyalusing, Pennsylvania. We have some off-season work in Florida keeping crews employed for longer periods of time in the Sunshine State. Several other states have started to go "Green" and use some of the processes that E.J. Breneman, L.P. has marketed over the years.
No one knows who will be on the Top 50 list in 2011. It is difficult to remain at the top of the list since the KPMG methodology is based on sales growth that year over previous years. The formula takes into account actual dollar increases and percentage increases during a three-year period and more heavily weights the most recent years. The range of companies provides a snapshot of our community and our economy. Other companies in the Top 10 came from those companies that invest in technologies and fill many market niches. Both Breneman and EJB Paving & Materials Co. have been "regulars" on this Top 50 list since its inception six years ago.
Many thanks to all the employees of E.J. Breneman, L.P., EJB Paving & Materials Co. and Miller Municipal Supply Company; you have all contributed to the success of 2010 and the recognition of being selected for the Chamber's TOP 50 Companies.
Sincerely Mike Polak, Partner